Working Principle

The central screw and screw blade are connected by the reducer and run at the same speed. During operation, the central screw will lift the mixed material from the bottom to the top, the high linear velocity of the external screw blace will lift the material from the bottom to the top along the conical barrel wall plate.
Under the action of centrifugal force, make the materials can thrown up along the tangent direction, and the material produces intense convective shears and diffusion, so as to achieve rapid mixing (the central screw can also be made to the reverse screw).
Structure Diagram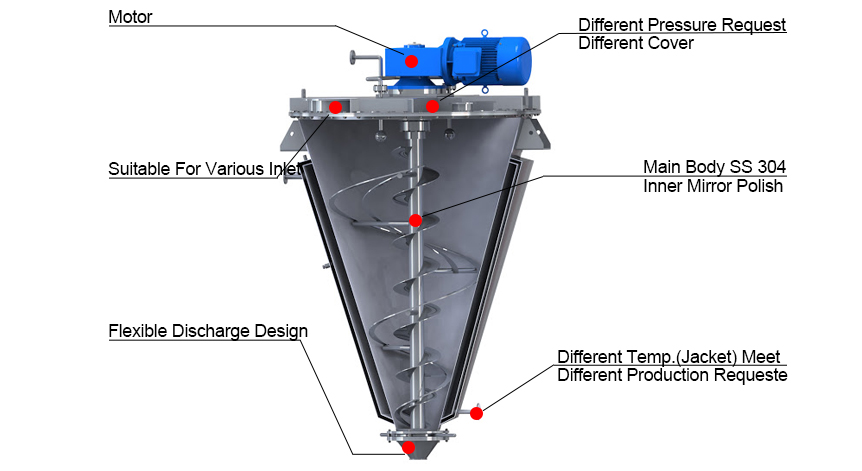 Application
Single core screw mixer are commonly used in Chemical, Medical Fertilizer, Dyestuff, Foodstuff, Poultry Feed, Cement, Construction Industry and so on. This single cone screw mixing machine can be made of different materials according to customer's request, such as Stainless steel, Carbon Steel, Contact Parts Stainless Steel, Super-heavy Explosion-proof type model.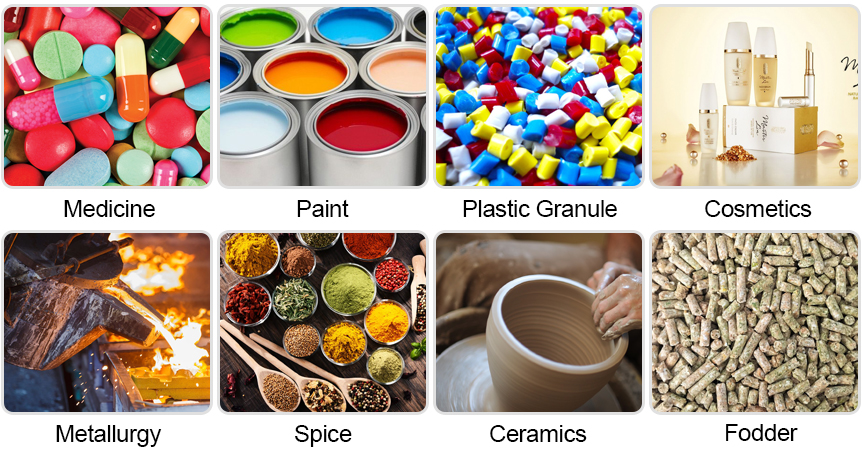 Technical Parameter
Model

Volume(L)

Voltage(V)

Rotating Speed(r/min)

Size(mm)

Weight

VH-20

20

220

0.25

500x250x490

45

VH-50

50

380

0.375

1150x500x750

95

VH-100

100

0.75

1800x650x1300

140

VH-150

150

1.1

1900x700x1400

230

VH-300

300

1.5

2320x800x1470

330

VH-500

500

2.2

2520x900x1510

550

VH-1000

1000

3

3040x1000x1765

1000
Real Case

FAQ
Q1: What's material you expect to grind?
Is it dry, what is the size of feed material?
Q2: How much capacity do you expect (kg/h)?
EM: 200kg/h
Q3: What's the materila of machine?
Usually we use Stainless steel 304, if you want Stainless steel 316, it's okay and please tell us.
Q4: What's usually power ______Voltage ______Frequency in your city?
For example, 380V 50Hz 3p; 440V 60Hz 3p; 220V.....etc.
(We only provide 3P, because our machine are all for industrial use, not for family)
Q5: How do you ensure the quality of your products?
A: Generally, our equipments are the most durable type in the industry, this is also the feature of the label impression of the most of our customers at home or abroad.
Q6: How do your after-sale service work if the product got damaged?
A: During the maintenance period, our general after-sale service is changing the damaged parts for the customer. Normally, we will provide on-site guidance.